Boston Bruins Road
For the first half of the season, the Boston Bruins were underperforming. After firing coach Claude Julien and letting Bruce Cassidy take the reigns, the Bruins have turned into the Sundance Kids, rocketing up the standings for third place in the Atlantic. Patrice Bergeron is being mentioned as a Selke Trophy candidate yet again, and Tuukka Rask has held the fort down. However, the big surprise of the season has been Brad Marchand, who has gone from known pest and instigator to renowned sniper and dangler. This is Boston's first trip back to the playoffs in three years, so expect fans to be loud.
Ottawa Senators Road
Ottawa stayed at the top of the Atlantic for months on end. Then, Craig Anderson left the team to support his wife's battle with cancer. Mike Condon filled in admirably, but with Anderson's return, the Senators went on a skid, dropping five consecutive games. Fortunately, they closed out the season winning three of four and snagging home ice advantage.
Boston X-Factor
Everyone will point to Brad Marchand staying out of the penalty box as Boston's X-factor, but Marchand will not be it. Boston's entire defensive corps, including Tuukka Rask, will have to hold steady due to the ridiculous quantity of injuries they have. Torey Krug and Brandon Carlo are both out for some period of time. Fortunately, David Krejci will probably play, but that does not solve the defensive injury quagmire the Bruins are in.
#Boston Bruins ..David Krejci/Dominic Moore did take part in pre game skate this morning in Ottawa.Will play tonite.#wbznewsradio1030
— Tom Cuddy (@TomCuddySports) April 12, 2017
Zdeno Chara will have to keep the young defense steady through a rough ride for Boston to come out of this series unscathed.
Ottawa X Factor
Ottawa has the opposite problem of the Bruins: they need offense, but have solid defense. The goal production in this series cannot just rely on Erik Karlsson skating it end-to-end. Mike Hoffman, Mark Stone, and Chris Brassard need to produce consistently in this series for Ottawa to stay afloat. The addition of Alex Burrows helps too, if he can keep himself out of the penalty box.
How Boston Will Win
Boston can win this series if they punch in a ton of goals every game to try and give their defense a break. If this sounds familiar, that is because it should remind you of the young Toronto Maple Leafs or even the young Washington Capitals of 2010. Offense can steal you games more often than not, and if Boston can get at least three goals behind either Anderson or Condon, it could be game over for the Senators.
How Ottawa Will Win
By keeping each game slow and low scoring. Ottawa thrives on short bursts of offense surrounding a solid back end. If Ottawa manages to put up more than three goals in a game, that would be surprising and fantastic, but do not rely on that every game. If this becomes a one goal game for every game during the series, Ottawa will surprise some people.
Who Should Win
This entire series will be a knife fight. No seriously. Even Micah Blake McCurdy has this as basically a toss up.
Series breakdown for Boston at Ottawa: pic.twitter.com/0KDABJi2gR
— Micah Blake McCurdy (@IneffectiveMath) April 12, 2017
Ottawa's defense can hold strong against the Bruins potent offense, but overall team play is the key here. Boston's running hot, and there is no time like the playoffs to start playing well. Additionally, Ottawa's lack of offense should disturb you. At some point, you need to score goals. Take the hot hand; Bruins in 7. And for all you movie nerds out there who liked the Butch Cassidy and the Sundance Kid reference…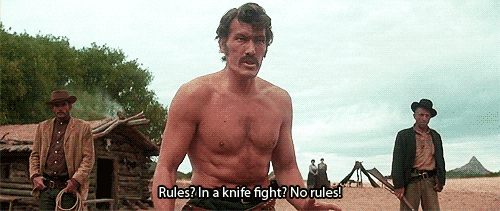 ×
My name is Julia, and I'm a Bethesda, MD native. I became an ice hockey fan after my dad took me to a Capitals game when I was 7, but quickly realized most 5'2" southern girls don't become Peter Bondra. I'm a 2015 graduate of Mount Holyoke College where I studied psycholinguistics, which is a fancy way of saying why people talk funny. By day I'm a graduate student at UMD studying journalism.