In case you haven't heard, the Pittsburgh Pirates made big news on Tuesday by trading for Chris Archer. He made his pitching debut this last Friday. It wasn't pretty, just over four innings and five runs allowed, and the defense didn't do him any favors whatsoever. A botched double play ball and a fly ball lost in the lights could've changed the outing. There will be plenty more starts for him to make up for his debut since he's under contract for the next three years.
Chris Archer
Chris Archer is a big deal, or more accurately, he used to be. Back in 2015, he contended for a Cy Young Award, was the ace of the Tampa Bay Rays rotation, and he had a wipeout slider. It was a very familiar story to Gerrit Cole in Pittsburgh; contends for Cy Young in 2015, nasty slider, the ace of the rotation… Just like Cole, Archer couldn't reach those same 2015 heights. Unlike Cole, Chris maintained the title of "Ace" and even though his pitching was closer to league average. The past two and a half seasons Archer has put ERAs over four, not ace material in anyone's book. The discussion has now become who did the Pirates really get? Have they traded for a mediocre Archer or that ace from three years?
Even a mediocre Archer, on his contract, will be helpful to Pittsburgh's rotation for the next few years. However, GM Neal Huntington didn't make the biggest trade of his tenure just to grab a league average starter. He's gone on record saying that the front office saw something in Archer. So far, the analysts and beat writers have fixated on Archer's slider issue. We'll get to his slider, but the troubles are more than just that pitch. The first start wasn't so great so what is the Pittsburgh front office seeing in Chris Archer? What is their "fix" for him?
**Fair warning there will be quite a few numbers thrown out. If that's not your thing don't worry, there will be easy to understand gifs along the way and a recap section (Enter Ray Searage), see you there!
 Chris Archer's "Traditional" Stats
Taking it step by step, let's start with the numbers everyone knows and are easy to find. It's really easy to see that Archer's ERA has been creeping up year since 2015. He consistently underperforms his FIP. In most pitchers, that should be an indication of bad luck, but he has never met his FIP.  In addition to that, he usually has an above average BABIP, sitting somewhere north of .300. This season's .343 is way above normal (career BABIP of .302). This is all because Archer is a strikeout specialist. He has never been known as a weak contact guy and doesn't have pitches that induce that kind of contact. In fact, Chris's average exit velocity (90 MPH) and hard-hit percentages (39.5) are some of the worst in the game. It's who he is as a pitcher. He focuses on getting strikeouts (fourth in the league over the last two and half years). When he falls behind his stuff becomes easier to hit as he can't rely on hitters to chase. Wrap that all together and you can get a pictur as to why his BABIP is higher than would be expected and how he can't meet his FIP.
Home Run Problem?
Chris kept the ball in the yard in 2015 but that was not the case in the next two seasons. That sentence could be written for almost any pitcher thanks to the new balls used but his increase in HR/FB is still alarming. Don't bother suggesting that pitching out of the AL East ballparks will help. Only six homers hit, of 99, were cheapies.
Remember that Archer gives up some of the hardest contact. Now it's true that there are quite a few big sluggers in the AL East that could be attributing to this but it may actually be a Tampa Bay issue.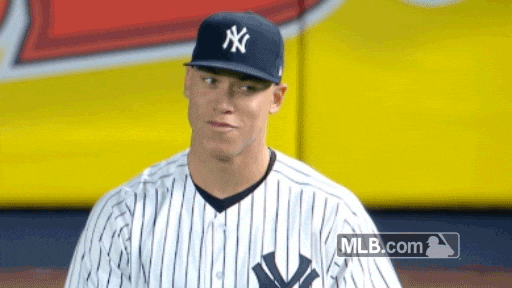 | | | | | |
| --- | --- | --- | --- | --- |
| | 2015 HR/FB | 2016 HR/FB | 2017 HR/FB | 2018 HR/FB |
| Archer | 0.82 | 1.34 | 1.21 | 1.03 |
| Rays | 1.08 | 1.33 | 1.20 | 1.00 |
| MLB | 1.02 | 1.17 | 1.27 | 1.15 |
Archer's HR/FB almost precisely follows his teams. The MLB itself felt an increase but not to the same extent as the Rays. Tampa isn't known as a hitters paradise. Even among their own division, the Rays HR/FB trends don't match up. This may be indicative of the Rays pitching philosophy in that. Perhaps Archer's home run issue is actually an organizational issue, an organization he is no longer a part of.
Pitch issue?
Chris Archer is a three-pitch pitcher. Honestly, he's more of a two-pitch pitcher with a changeup that's thrown to keep hitters honest.
| | | | | |
| --- | --- | --- | --- | --- |
| Year | | FB (MPH) | SL (MPH) | CH (MPH) |
| 2015 | | 54.1% (95.2) | 39.2% (87.9) | 6.7% (85.9) |
| 2016 | | 48.5% (94.3) | 40.2% (88.3) | 11.3% (86.8) |
| 2017 | | 47.6% (95.5) | 44.4% (88.9) | 8.0% (85.8) |
| 2018 | | 45.6% (94.6) | 42.7% (87.9) | 11.0% (87.4) |
In his best year, he threw his fastball the most he ever had. For some reason, the Rays backed off Archer's fastball in favor of more changeups. One quick fix would be to go back to throwing more fastballs. We'll talk about that in a moment. It's not a major flag but it is concerning that Archer has lost speed off both his slider and fastballs. Velocity isn't everything but it sure helps. The velocity gap between his fastball and changeup has closed and you can ask 2014 Justin Verlander about how well that goes.
The addition of another pitch could be extremely useful and just so happens that the Pirates are known for teaching two-seamers and sinkers. Chris has thrown a sinker before but he hasn't touched it since 2014. On the other hand, the Rays are very forward-thinking. It would be silly to assume that they haven't tried to teach Archer a new pitch before. Perhaps the new pitch didn't feel right or maybe he thought he was fine as is. Archer's pitch profile isn't all that different from year to year and it doesn't really explain how Archer went from being an ace to league average.   
Splits
Finally, we see some red flags.
| | | | |
| --- | --- | --- | --- |
| Year | wOBA vs R | wOBA vs L | ERA |
| 2015 | .278 | .267 | 3.23 |
| 2016 | .306 | .302 | 4.02 |
| 2017 | .287 | .326 | 4.07 |
| 2018 | .317 | .359 | 4.49 |
Lefties are Archer's kryptonite. As lefty wOBA goes so does his ERA. It's increasingly gotten worse over the seasons and it's especially bad this. Other writers and analysts have pointed out his issues with lefties and his slider.
On the eve of Chris Archer's first start for the Pirates, digging into what has ailed his slider this season. They say location counts. Here's his slider heat map in 2015 (L) and in 2018 (R).

Learned about this and a lot more from @tometrics' piece: https://t.co/3uFJutHBqK pic.twitter.com/8mh6v5ix2r
— Stephen J. Nesbitt (@stephenjnesbitt) August 2, 2018
The issue isn't confined to one pitch.
The fastball is being hit harder, at a better angle, and for a higher line drive % than ever before. This one pitch is having its own launch angle revolution by itself. The crazy thing is that this problem doesn't exist against righties. As strange as it is,  the explanation is actually pretty simple: location.
Those are not well located and they deserved to be crushed.
This could be a pitch sequence issue or a slider-heavy pitcher issue. Archer gets a lot of swing and miss due to the break on his slider. When batters lay off the slider, Archer falls behind and is forced to throw fastballs for strikes. His fastball is clearly a lot easier to hit.
This is very similar to former Pirate starter Francisco Liriano. For two to three years he was a very good pitcher because the NL Central couldn't lay off his slider. They finally caught on and stopped swinging. Liriano was forced to come in with a mediocre fastball, saw his ERA rise over five, and was then shipped away to Toronto.
The Slider
In 2015, Chris' slider became an infamous weapon that took care of batters, regardless of handedness. As the seasons went on the slider was still effective…until 2018. For the first time in his career, the slider rates as a pitch with neutral value. Last year's slider was worth 17.7 runs above average. Seventeen to zero isn't a crazy decline, it's a football score. It's almost like he forgot how to throw his trademarked slider. Archer wasn't injured between this year and last, so that's not to blame. Surprise, surprise it's a location issue.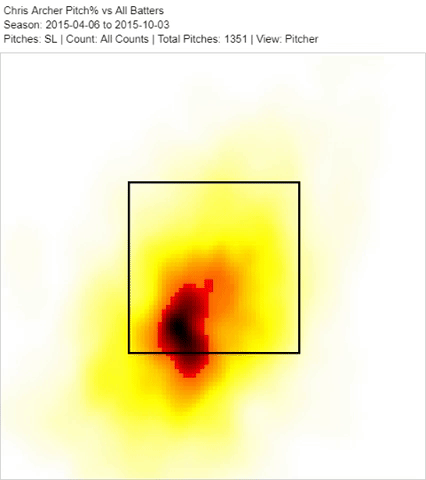 More specifically it's a location to lefties issue.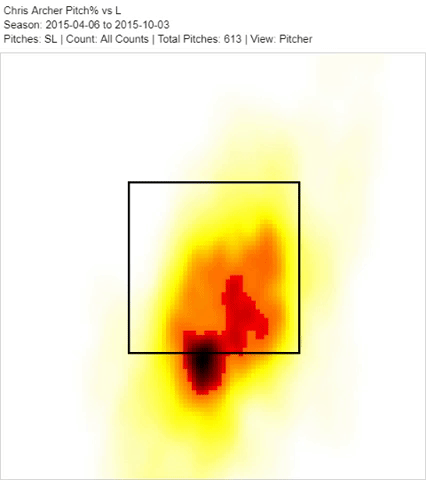 Those are batting practice locations, It's a miracle his slider is rated at zero.
Location, location, location
Obviously, location seems to be the biggest issue for Chris. It doesn't really make sense for him to just randomly lose control in 2018 when there wasn't an injury. His arm slot has not changed and is easily checked through baseballsavant.com. However, the release point has. He is releasing the ball from the same vertical point but not the horizontal point.
| | | | | |
| --- | --- | --- | --- | --- |
| Year | Slider Horizontal Release Pt vs L | Slider Horizontal Release PT vs All | Slider value (per FanGraphs) | Fastball Horizontal Releast Pt vs L |
| 2015 | -1.44 | -1.35 | 22.7 | -1.36 |
| 2016 | -1.56 | -1.46 | 21.0 | -1.56 |
| 2017 | -1.57 | -1.45 | 17.7 | -1.60 |
| 2018 | -1.91 | -1.76 | -0.4 | -1.92 |
His slider seems to have gotten wonky as his release point has changed. Now I'm not a pitching coach or a pitcher, but there has to be a reason his slider has gone from a great pitch to a mediocre one and this is the only difference I could find was among his slider characteristics.
Note that the fastball release has also changed. It seems like at some point after 2015 the Rays intentionally moved Archer's release OR his release naturally changed. It's not like he's throwing from a completely different arm slot this is minuscule stuff. Unfortunately, minuscule stuff makes a big difference.
Changing Chris Archer
The Pittsburgh Pirates have cultivated a reputation for fixing starters over the last couple years. They've never tried to fix someone of Archer's pedigree though. If the Pirates can get Archer back to 2015 location and effectiveness the trade will be a win no matter what Tyler Glasnow and Austin Meadows become. The hard part is actually correcting Chris.
We just learned that Archer's release point is different by ~0.50 between 2015 and 2018. That's a noticeable difference but is it an easy fix? Pitchers work day in and day out on making their deliveries repeatable. Trying to alter a delivery by such a slim margin seems like a huge ask and extremely difficult. It may even be uncomfortable for Archer and make his pitches less effective. Obviously, if he can make that small change he should. Luckily, changing his release point isn't the only option.
Pitching Philosophies
The changing of pitching philosophies and sequencing could go a long way. Remember that Archer's home run problem mirrored Tampa Bay's, indicating this home run was organizational, not personal, so that should go away. Pittsburgh pitches batters differently than the Rays do. Pittsburgh has thrown a lot of sinkers and two-seamers in the past and love to throw inside.
The Pirates may use their past experience to teach Chris a more effective sinker adding another pitch to his arsenal, one that could be used against righties and lefties, unlike his lefty only changeup. Aiming for the inside part of the plate will change up the sequencing and the book on Archer. Perhaps giving him new found success as hitters have to relearn his tendencies.
The Pittsburgh front office is definitely one of more analytically inclined. They know that Archer has a problem against lefties and that his slider is suddenly becoming less effective. They know that his release point has changed and that hitters are crushing his pitches. Their advanced proprietary data probably tell them more than what we can access on Fangraphs, baseballsavant, and baseballreference. Whatever it was, some data point indicated that they could turn the clock back on Chris Archer. The Pirates don't trade away top prospects, even flawed ones so they must be pretty confident they can fix Archer. It'll be interesting to see how to approach it.
×
I grew up in the only hilly part of Indiana, an unholy place where Reds, Cardinals, and Cubbie fans all live in semi-harmony. The first 20 years of my life were abysmal as I never got to see a winning season from my beloved Pirates. Today I live in bliss as I allow my baseball addiction to take over every aspect of my life.