The debate has been around since Marcus Mariota and his Oregon Ducks played Jameis Winston and his Florida State Seminoles in the Rose Bowl in 2016. Who would go number one overall?
Winston would win the Heisman Trophy in 2014 and Mariota a year later. Who would have a better career? I'll be honest, I was extremely quick to say the Titans were back and got the better end of the deal after a 42-14 rout of the Bucs in the first game of their rookie seasons. The Titans went on to lose six in a row, and nine out of ten, all while Ken Whisenhunt was fired. Sorry to remind you about those awful times.
The Titans and the Buccaneers square off in preseason action tonight, and since 2015, the debate in the NFL community has been Jameis Winston or Marcus Mariota?
It's any easy argument because they will forever be linked to one another by being drafted one and two overall. But, it wasn't that easy to look at 2015 and decide who was better, although Mariota threw four touchdowns in the win against the Bucs. The Titans went on to a record 3-13 and Mariota went 3-9 as a starter, before an injury cost him the rest of the season. Mariota threw for 2,818 yards that year to go along with 19 touchdowns and 10 interceptions. Winston, however, went 6-10 as a starter and threw for 4,042 yards, 22 touchdowns and 15 interceptions.
The next season, Winston led the Bucs to an impressive 9-7 campaign, barely missing the playoffs after limping to a 3-5 start. In 2016, Winston threw for 4,090 yards, 28 touchdowns and 18 interceptions. Winston was also sacked 35 times to Mariota's 23. The Titans also went 9-7 in a season where they brought in eventual All Pro right tackle, Jack Conklin and Pro Bowl running back DeMarco Murray. The season ended bitter as Mariota broke his leg and the Titans missed the playoffs in a loss to the Jacksonville Jaguars in Week 16. That year, Mariota threw for 3,426 yards, 26 touchdowns and nine interceptions. Mariota's ball security was in question in 2016 as he also fumbled nine times.
In 2017, the Bucs were a trendy pick to make the playoffs and even win their division but went 3-13 and 3-10 with Winston as the starter. Winston no doubt had a down year, throwing for 3,504 yards, 19 touchdowns and 11 interceptions, as did Mariota throwing for 3,232 yards, 13 touchdowns and 15 interceptions. The biggest difference here is that the Bucs obviously missed the playoffs by a long-shot, and the Titans advanced to the divisional round and were defeated by the Patriots.
People want to look at stats because they are the easiest to criticize a player. "This quarterback was better than this one because he threw for more yards, more touchdowns, and less interceptions." The proof isn't all in the numbers in this debate, one would have to dig a little deeper. Mariota has had a better line in the last two years, no doubt about it, but Winston has had the likes of Vincent Jackson, DeSean Jackson, Mike Evans, and OJ Howard, each for at least one year. Mariota hasn't has nearly the reliable targets like Winston. Harry Douglas, Justin Hunter, Dorial Green-Beckham is who he had to work with. The best receivers Mariota has had is Delanie Walker and Rishard Matthews. After that it is most likely Kendall Wright, and that is criminal.
This section of the article could be a whole lot longer, but I'll keep it short. Mariota had Terry Robiskie as his offensive coordinator for two years and hindered Mariota's development. The Tennessean infamously reported after the Titans ugly win against the Colts in November, that Robiskie, "is good at his job."
Robiskie was fired three months after that game.
Marcus Mariota and Jameis Winston are no doubt, cut from different cloths. The worst thing Mariota has done in his tenure with the Titans was saying he was "pissed" after a loss and promptly apologizing for his language the next week with reporters. The one "red flag" for Mariota in the draft process was that he had a speeding ticket on his way to practice after visiting an ill fan in the hospital. Jameis Winston, however, has a longer rap sheet. Winston was investigated twice while he was in college for sexual assault, and was somehow found not guilty. This investigation was fishy from the beginning, as the Tallahassee Police Department encouraged the alleged victim to not pursue charges because, "Tallahassee is a big football town." Winston also yelled from a table at FSU obscene gestures, something he was later suspended for by former Florida State head coach Jimbo Fisher. More recently, Winston was accused of groping an Uber driver and was later suspended three games by the NFL, which should have been more than three games, in my opinion.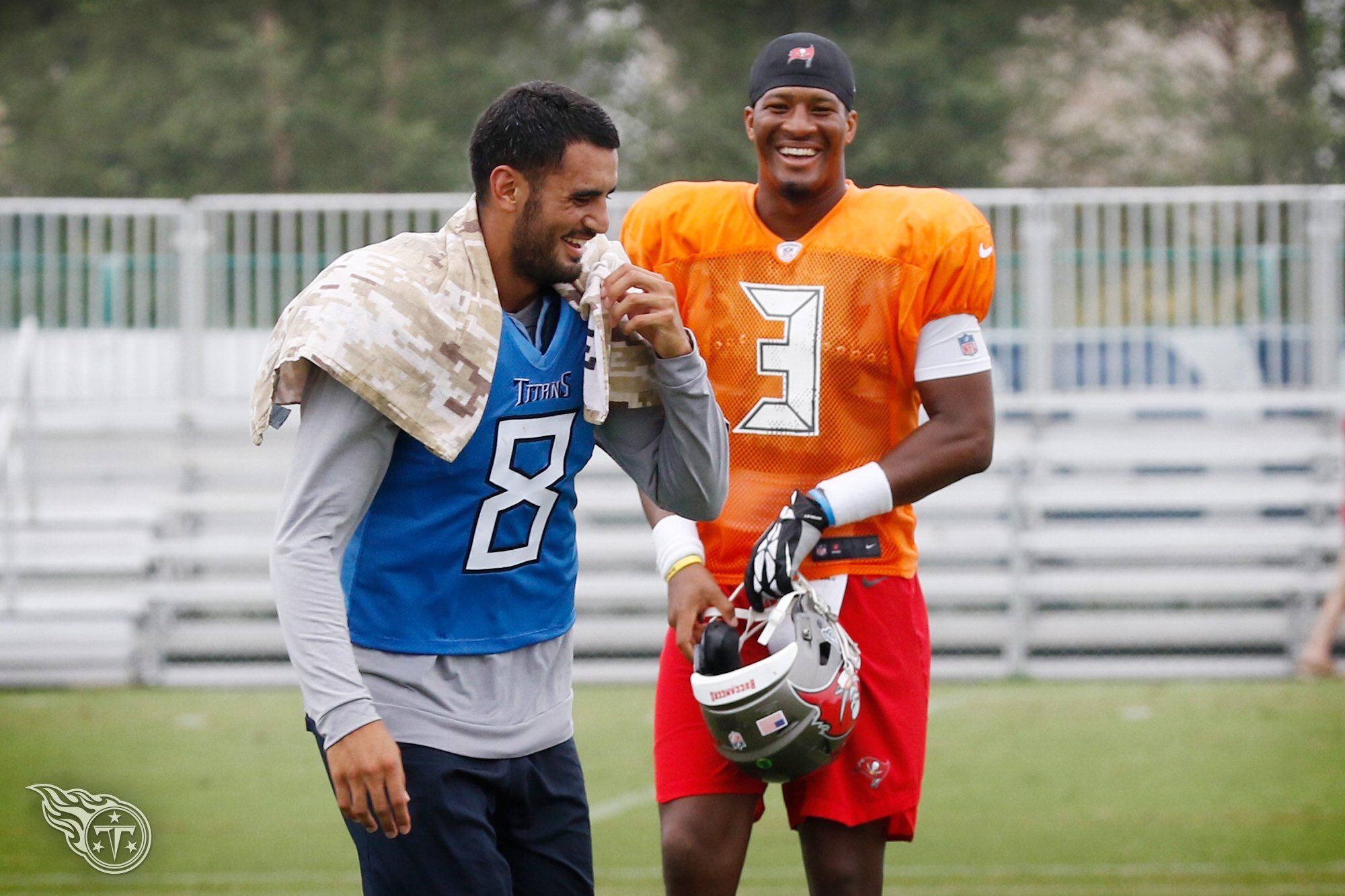 The debate of Winston vs. Mariota will forever go on by fans, but for me, Mariota over Winston every day of the week.
×
My name is Elijah Wilson and I am from a town just outside Nashville called Lebanon, better known as where Cracker Barrel originated. Although I grew up in Tennessee, I am not a University of Tennessee fan. My mother raised me right as a Fightin' Texas Aggie fan. I am a Sports Broadcasting major at Austin Peay State University in Clarksville, TN, and our mantra is, "Let's Go Peay." The only thing I hate more than people smacking their food is suffering a non-lottery pick Memphis Grizzlies season and getting beat in the first round of the playoffs.