The narrative surrounding the 2018 Tennessee Titans has understandably been all about the change at head coach. "How could the Titans fire Mike Mularkey when he just led them to their first playoff win since 2003?" Mike Vrabel has now taken over for Mularkey, but perhaps a more important change occurred at offensive coordinator.
In 2017, Terry Robiskie consistently showed an unwillingness to change or put players, particularly Marcus Mariota, in places to succeed. That trait cost the Titans several opportunities to win games, stunted Mariota's growth, and ultimately got Mularkey and his entire staff fired. Expect that to change under offensive coordinator Matt LaFleur. In the past several years, LaFleur has been instrumental in helping quarterbacks like Matt Ryan and Jared Goff take the next step in their careers. Mariota has shown flashes of greatness, particularly in his second season, and LaFleur will help bring consistent greatness.
Let's look at LaFleur's past. LaFleur is the latest coach to come from the Shanahan coaching tree. He coached under Mike Shanahan as the quarterback's coach of the Washington Redskins. In 2012 he coached Robert Griffin III to the Offensive Rookie of the Year award. He was also a key part of developing Kirk Cousins.
In 2015, LaFleur was hired by the Atlanta Falcons as the quarterback's coach. In 2016, Matt Ryan was named league MVP and led the league's best offense to overtime in the Super Bowl.
In 2017, LaFleur was hired by Sean McVay and the Los Angeles Rams as offensive coordinator. In 2016, the Rams offense was one of the worst in the NFL. They scored the fewest points per game in the league and Jared Goff looked like a complete bust. In 2017, they scored the most points per game in the NFL and Goff made the Pro Bowl. It's amazing what a new coaching staff can do.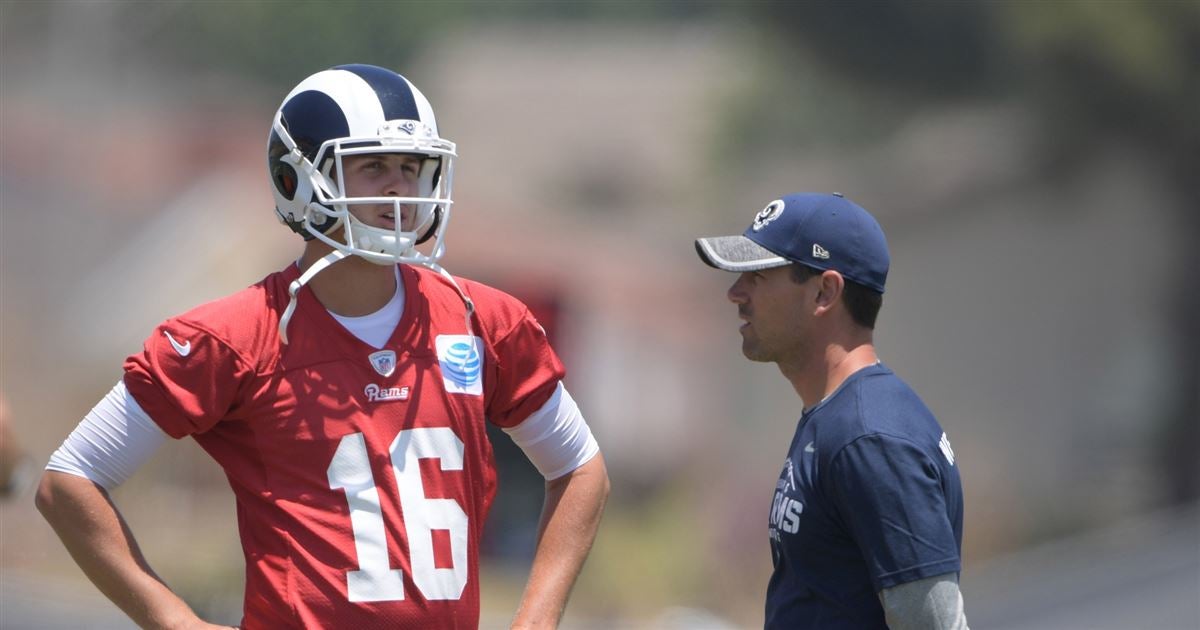 It is no coincidence that every quarterback LaFleur coaches has turned a corner. He consistently gets the best out of his players. It's not only quarterbacks, Todd Gurley turned into one of the best running backs in the league under LaFleur in 2017. Mariota, Derrick Henry, Dion Lewis, and Corey Davis are perhaps the most talented complete cast of players that LaFleur has ever coached. If he can continue the trend that he has displayed in his first three spots, there are very few expectations that will be too high for the 2018 Titans.
Here's how and why LaFleur will be successful with the 2018 Titans:
A return to fundamentals
In 2017, Mariota threw 15 interceptions and 13 touchdowns. Many of those interceptions were unlucky, but more were because of a lack of fundamentals. Particularly his footwork lacked at times. Jared Goff struggled heavily with footwork before LaFleur arrived, but in 2017 he was most stronger.
Creativity
Run-run-pass, run-run-pass, repeat forever. That is what the Titans offense felt like in 2017. It's hard to not be more creative than that, but with LaFleur creativity is guaranteed. A hallmark of the Rams' offense in 2017 was unpredictability. With two versatile backs in Henry and Lewis there are several different options for LaFleur to employ in the run game. In the pass game, Corey Davis flashed potential to take the top off the defense, and Rishard Matthews can run any route LaFleur asks him too. Expect to see a healthy mix of run-pass options, screens, and creative pass plays in 2018.
The Titans won a playoff game in 2017, with a coaching staff that was unwilling to change, a banged-up quarterback, and a flawed and outdated scheme. With a new scheme, a lineup that is experienced full of potential, and a proven offensive coordinator, at the very least the 2018 Titans will be far more exciting to watch.
×
My name is Noah McKay, and I was born and raised in Tennessee. I am currently a student at Tennessee Tech University. Also, I am a freelance sports writer for the local paper. I eat, sleep, and breathe Tennessee sports. I am a Titans, Predators, and Nashville SC season ticket holder, but my first love was football. In my house, the NFL is on the TV all day on Sundays, and on Monday and Thursday night. As a lifelong Titans fan, I understand how difficult, and frustrating, it can be to find good content on the team in two-toned blue, and I will strive to provide relevant, interesting and entertaining content for all of you.